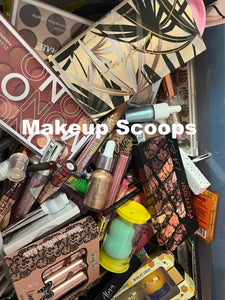 Scoops 
1 Scoop  May contain 
Lipstick, Lip Stains, Beauty Blender, Lip Kit, Setting Spray. Mini Eyeshadow Palette, Highlighter, 5 PC Lippie set, Lashes, Lip scrub, Earrings, Pressed Glitters, Face Exfoliating brush, Hello Kitty Key Chain, Spa Headband, Mascara, lip oils, Lip balm, and gloss. Lip mask, Lashes, 2-in-1 eyeliner adhesive mystery shade, Face Charms, Cosmetic glitter, and Foil. We are always adding new products so be sure to check our videos out on TikTok. 
You will most definitely get more than you paid for. 
So many more goodies have been added. 
AVAILABLE WHILE SUPPLIES LAST